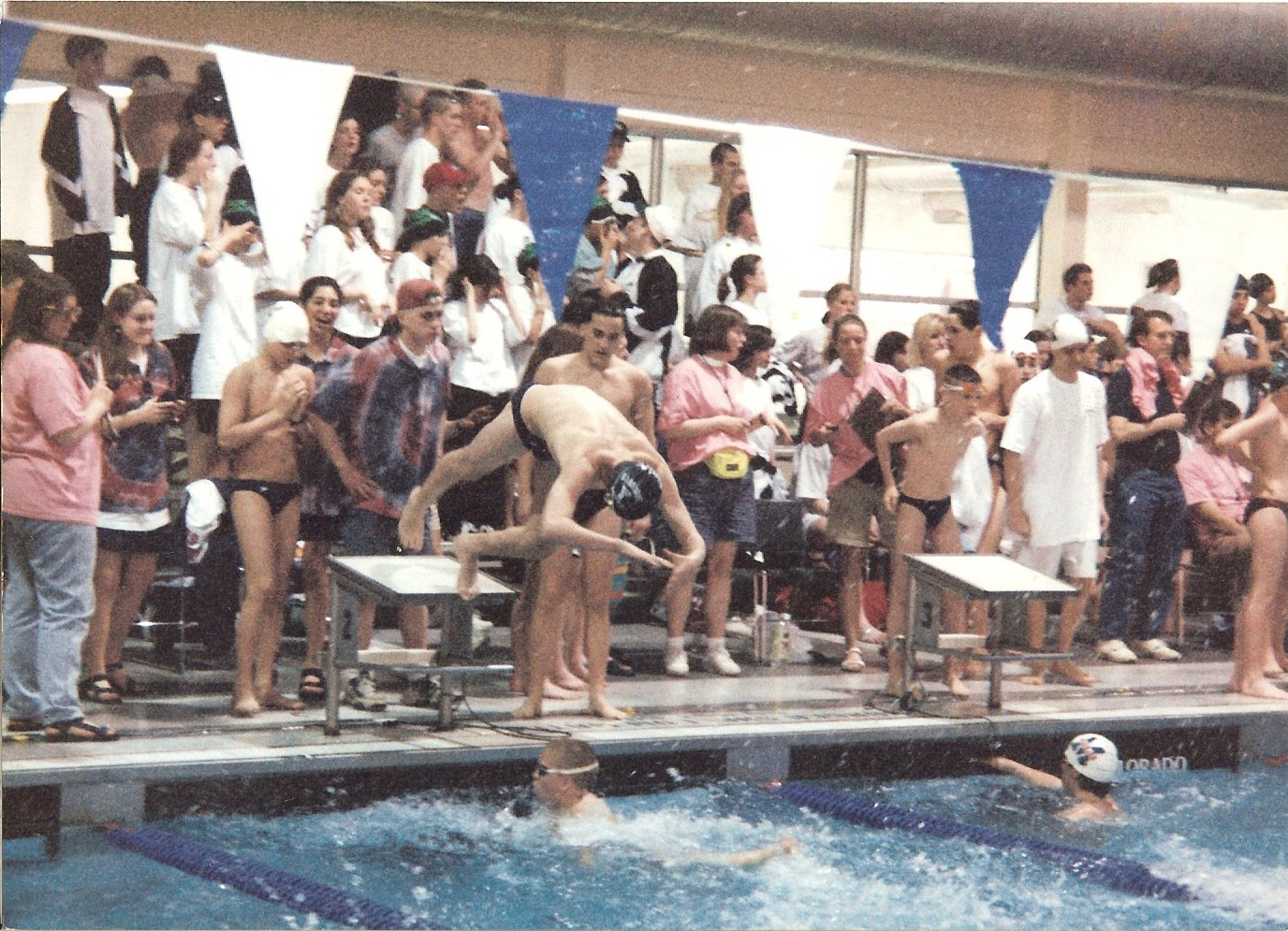 I approached this valedictory with the query, "Why swimming"? Now, it is said that one shouldn't answer a question with a question, but I demur: why life? For me, living means vigor—awakening in the morning and flexing and fanning out the biggest muscles in my back, stepping outside and, as my great uncle Marshall has told me he does, gloriously breathing in air to my lungs. The world is bright and brimming with life itself, and I am privileged, at this juncture of opportunity in my youth, to be not only of sound mind but also of sound body.
If memory serves, I was in the eight-and-under age group when Ben Eakley, who also attended Millburn High School and in fact lives a few houses down from me, gave his Seals valedictory. As I sat spellbound by many words I did not yet know, I understood that swimming meant a great deal to this Yalie; thenceforth, I have been mentally attempting to redact what swimming means to me. What should come naturally, however, is daunting; I now stand in the company of such alumni as Bethany Karl, whose emotive words touched every Seal, and J.D. McMillan, who called Brian Greene "a father."
Swimming has appealed to me from childhood as an ageless arcadia. Its compulsion of pure body force against resistance—without the aid of a racket or spikes—suites my physique; its coordination of grace with energy poises my movements and manner. Especially now that I'm back in training—though I did skip practice this morning—I soak up the feeling of going somewhere purposefully and rhythmically, with little to distract me en route. To watch me swim is to understand who I am.
From a spectator's view—not the open bleachers that Mr. Lawler populates Monday through Thursday nights, but, more fondly, the defectively ventilated and lighted observation deck from which Mary and Mike Nervi, Marge Reheis, and my mother replenished us swimmers with doughnuts and orange juice—it is six lanes, each divided by two lines going and coming, in which loop concatenated bodies, some masculine, more feminine—all skimpily, snugly clad, pallid, and sinewy. From a coach's eye—probably Marty's—my elbow should be extended further, I am still breathing with every stroke, and why am I still on the wall? From the swimmer's outlook, such scenes evoke the utter bliss that is vibrantly, uniquely swimming. For this is the Summit Area Y.M.C.A. natatorium in which I have grown from a diffident and clumsy freestyler, flailing his erratic laps through heavy, humid, crowded water, to an assertive two-time captain, powering through practice in a place as familiar as my home town and as comfortable as my home.
I came to Seals as a seven-year-old attired in swim trunks below my knees. My mother had heard about the program through the Y, where I played soccer in what is now the main exercise room. Having spent my summers at Jefferson Lake Day Camp, where the swimming lessons my great uncle Marshall taught me on the weekends propelled me to the highest level of water instruction, I was not unfamiliar with water but with the jargon of swimming: who knew that freestyle was the same thing as crawl?
Tryouts were held on a September weekday. My lap of choice was breaststroke, for which I simply copied the form of my nearest competitors, my only concept of the stroke being that of my mother's summertime technique. To my mind, I paled in comparison with the other aspirants, many of whom already knew each other through previous years on the team. After I changed rapidly in the crowded locker room—in those days, I would race in any endeavor and hence often wore my wet suit home—I climbed the stairs and befriended the vending machines that would regularly supply ruin to my dinner. As my mother and I waited in the cramped lobby, Hank called the names of those accepted; finally, toward the end, he announced "Jonathan Feder," and I was a Seal. I made my way through the crowd to receive my prized packet, and walked out of the Y that crisp night beaming. My mother hugged me; I jumped with joy—and with apprehensiveness.
Today, such joie de vivre is unqualified; like my miniature schnauzer Wyatt, practice is a panacean pleasure. On particularly stressful days, the pool is both a Nautilus and a Tylenol. Here, accolades are often redundant, since one's stroke divulges one's mood: is Jeff kicking so forcibly as to blur my foresight from behind; is Abby pushing off the wall before the interval? In water, be it at practice or drifting, head back, miles downstream with the ocean current, I feel free, unbounded by neither time nor space.
Swimming, also, is ideal as a social outlet, "where the troubles are all the same and everybody knows your name." Rewarding it is to reciprocate the support of teammates and coaches—friends—in the crucible of the competitive arena. We may vie against one another, but when practice ends, we carpool home, chat online, and fall asleep energetically; the following morning, still smelling faintly of chlorine, muscles usually sore, we exude vitality. For us, this ambiance is tantamount to oxygen; and the sport and the program are simply a way of life, which they enlarge.
The weekday endurance training during Friends and Seinfeld, the weekend technique calisthenics when we should be sleeping—how does the repetitive pulling and kicking back and forth, back and forth, hour after hour, remain, after eleven years, a seven-month-season, six-day-a-week regimen? In conceptual terms, swimming is principally a function of time; we race against the clock, and measure our speed in those inestimable milliseconds only sprinters can appreciate. Thus the swimmer values orderliness. But more than disciplining, swimming alleviates loneliness; it is an isolation that is comforting. Insulated from any sight or sound other than the vague perspectives of water and the muted thunderclap of our arm strokes and breathing, we swimmers tunnel onward amid silvery bubbles. Others may swim alongside—unavoidably, magnified eyes meet via goggles or one's toes rub up against another's arm—but their distinctiveness tends to refract away. Often, nonswimmer friends marvel at our ease of progress through seeming crises, for we swimmers see the world through our cool, measured pace in the pool.
And so, this is swimming—a religion, the backbone of my positivity, focal point of my day, ambrosia to my soul, a passion that transcends life's obstacles and facilitates unbridled enthusiasm, intense drive, and enduring solace. But who facilitates the opportunity for these qualities?
I first want to thank my teammates, all of whom made practice worth coming to—the power naps beforehand; the speeding to maneuver Summit's streetlight patterns; the cherished locker-room gossip; the culminating sauna, shower and turquoise dispenser-shampoo; the sliding down the Y's front two railings; the frigid walks to cars, without socks, with a wet head; the post-practice ravenous appetites. When, after my disappointing freshman year I was resolved to quit swimming, Hank needed only to refer to this community, for without teammates, ambitions lose import.
Indeed, the man we all know quietly as Hank is the patriarch of Seals. Having weathered changes in teammates, coaches, weight rooms, locker rooms, the record board, pools, and practice schedules, I will above all miss our abiding head coach, who himself has repeatedly weathered sickness so that he can again be with us. Kind and affable, Hank has steered me not only through athletics but also during several situations through life. His trademark humor is frequently an antidote, his gentle spirit contagious, and his devotion inspiring. When I asked him for a letter of recommendation for college swimming—although my request was but two weeks before the decisions were to be mailed—Hank knowledgeably wrote about me in terms sure to convince any coach, if not of my Olympic times, then of my Olympic personality. Perhaps my fondest memory of Hank is at the eight-and-under championship mini-meet in Pennsylvania; there I attribute my record in the fifty free to at least two things Hank: the Seal he drew on my left shoulder and his classic motto, Winning isn't everything, but the will to win is.
Likewise, I have nothing but appreciation for the many other coaches, past and present, of Seals: Marty, whose love for the sport induces motivation and whose reminiscences of the team it was a pleasure to discuss at dinner this year in Charlotte; Dave, whose blunt approach forced me to decrease, somewhat, my lap- and wall-skipping; Laura Ridel, whose comments to me on wearing a Speedo endowed confidence in a modest eight-year-old; Greg, who wouldn't allow me to give up on myself—lest Ellen beat me—during an afternoon weekend practice this year; Mrs. G., whose smile symbolized others' happiness; Laura Figler, whose walking the laps I was swimming spurred me forward; Bill, whose Saturday morning practices introduced me to the famous medicine balls; Brian, whose indefatigable spirit permeated each practice and whose support, in and out of the pool, turned many tough days laughable; and Mrs. Diamond, whose coaching, because she had just finished her own workout, was continually cheery.
Finally, to my family—my mother Barbara, my late grandmother Loretta, my grandfather Sidney, and my great uncle Marshall—I give the gratitude of my very being. Upon my shoulders rests a world of appreciation to you four for your confidence in me as a son. Without your munificent love and support and time, I would be nothing.
Grandpa and grandma, thank you for your untiring encouragement and optimism. Uncle Marshall, thank you deeply for the pineapple that nourished me during mini meets and your sincere interest in my times. Mom, you spent countless hours driving me to practices and meets. We share a lack of a sense of direction, but, somehow, we always reached our destination—even that time in Princeton when I missed one of my two events. I remember how proud I felt when long ago, the bus—this was when Seals employed buses for transportation to away dual meets—never returned to collect the team; having just won the meet, we were hungry and so you treated the team to lunch. And, throughout, despite my protests, you saved every article in which my name appeared, a thankless task of which I now see the poignancy.
Never did my family pressure me—an example I hope I can one day emulate—but instead they conferred up my years of athletics a prerequisite for success and the characteristic that makes any endeavor worthwhile: fun. No child, especially with an estranged father, could ask for a more loyal and loving family.
Time will not fade the memories of Summit Area Y.M.C.A. Seals swimming; most likely, time will give rise to indelible gratefulness for the fostering environment in which I was both student and teacher. To a new generation of Seals—especially to you slackers whose cramps arise during long sets—it is with sad happiness that I wish you the best and expect to read about many of your achievements in the newspapers. Carry your team's name with pride, in the full knowledge that you are part of something special. I sincerely hope your experiences on this team have been, and will be, as thoroughly rewarding and delightful as mine have been.
Thank you.