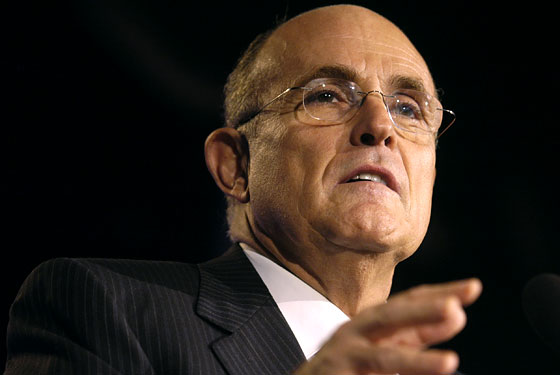 A version of this blog post appeared on TechRepublican and Redstate on August 15, 2007.
Rudy Giuliani is a Republican who holds the Democratic position on abortion. He's also a Catholic, which digs his hole even deeper, since various American bishops have threatened to deny him Holy Communion, as they did to John Kerry in 2004.
Accordingly, most political strategists would advise Rudy to avoid the subject of communion at all costs, on the theory that there's no good way out of this minefield. A satisfactory answer would require either an encyclical or a Castro-length sermon, they posit.
Sorry, but that's dead wrong. Instead of obfuscating or tiptoeing around the issue, Rudy plunged headfirst into it, in the current issue of the New Yorker:
"They [the bishops] have every right to tell me anything they want," Giuliani said to me. "But then I have every right to believe anything I want. And, ultimately, that sort of expresses both my political faith and my religious faith. They have a right to instruct me. And then, having my own conscience, and my own mind, and being my own individual person, I have a right to determine whether I agree with that or I don't agree with it. Now, there are some people that look at religion differently. That's the way I look at it. It's a way that helps me understand morality better. It helps me understand God better. And ultimately it's my relationship with God, my relationship with Jesus, that's the important one. And I've got to figure it out. And if they help me they do. And if I don't agree with it then I have to go with my own conscience."
Thus, in just 152 words—to a reporter, no less—Rudy defused a tinderbox. He didn't pander, but spoke from his heart. Joe Klein would be proud.
Rudy's homily is especially important because it disproves the conventional wisdom that Republicans are better communicators than Democrats, the thinking being that the nuance of clause-draped liberal ideas doesn't lend itself to sound bites (cf., "support the troops" vs. "pro-troop, anti-war"). As Stanley Fish has brilliantly elucidated, what matters is not the message but the messenger:
If you can't explain an idea or a policy plainly in one or two sentences, it's not yours. . . . Words are not just the cosmetic clothing of some underlying integrity; they are the operational vehicles of that integrity, the visible manifestation of the character to which others respond. And if the words you use fall apart, ring hollow, trail off and sound as if they came from nowhere or anywhere (these are the same thing), the suspicion will grow that what they lack is what you lack.
Indeed, a good communicator can always articulate his message, regardless of complexity and without compromising the integrity of his argument. Tom Friedman, a liberal columnist for the New York Times, is a master of this art, using simple metaphors, like The Lexus vs. the Olive Tree and The World Is Flat, to encapsulate big ideas.
Bear this in mind the next time someone carps that, say, Hillary Clinton's position on Iraq is too sophisticated to be simplified. It's not the position, it's the person, that's the problem.
Addendum: As soon as I finish praising Rudy for being forthright, I read that he's clammed up. Asked last week at a town-hall meeting in Iowa if he is a "traditional, practicing Roman Catholic," Rudy retorted, "My religious affiliation, my religious practices and the degree to which I am a good or not so good Catholic, I prefer to leave to the priests."
Addendum (8/20/2007): The more I think about it, the less I think there's a contradiction between the above two quotes. In short, some questions, like whether one is a good Catholic, are inappropriate, and it can be refreshing to hear a politician tell a questioner as much.
In fact, this is what Mitt Romney told a writer for the Atlantic Monthly last year, who asked if he wears Temple Garments—white underclothing, with the "Marks of the Holy Priesthood" sewn in, donned with reverence by the most faithful Mormons. "I'll just say those sorts of things I'll keep private," Romney sensibly replied.