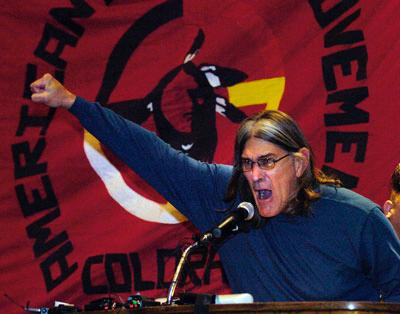 A version of this blog post appeared on Talking Back to the Media on April 4, 2005.
We all have skeletons in our closet, and when reporters start digging around, they invariably unearth some (if not many). Remember the rapid downfall of Bernard Kerik after President Bush nominated him to be the Homeland Security Secretary? Or consider Ward Churchill, whose marriages, salary, military service, arrest record, artwork, ethnicity, etc., etc., has been plastered and replastered across the Internet, newspapers, TV and radio.
Does not such scrutiny cross the line of necessity or decency? What does it matter, in the context of the debate on academic freedom and free speech, that the man allegedly beat his first (of four) wives? It doesn't—except that Ward Churchill had it coming all along. This is, after all, someone who courts controversy, who thrives on vituperation in order to advance his berths on the college lecture circuit. He is, above all, a rabble-rouser.
Moreover, the leitmotif emerging from these exposés—fraud—bears not only on the catchall of character, but also on the debate at hand. For if one has blatantly copied another's copyrighted painting, or publicly lied about being an Indian, surely it is reasonable to investigate whether one has plagiarized, hyperbolized or otherwise employed distortion in one's area of expertise. Indeed, each week seems to bring another damning example.
Given the roosting-chickens subtitle of Churchill's essay/book on 9/11—not to mention his protesting Columbus Day parades in the name of hate speech or his hurling imprecations against capitalist America despite his taxpayer-funded $100,000 salary—the irony is delicious and deserved. Call it, Some Reporters Push Back.