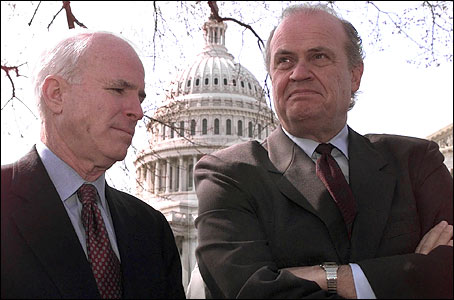 Perry Bacon (who recently left Time to join the Post, where he's been lighting up the Web site's list of most–popular articles) reports:
Thompson was perhaps McCain's strongest Republican supporter, even advocating an early version of McCain's bill that would have banned contributions from political action committees. (In recent interviews, he has complained that the enacted law has not had the effect that was intended.)
To me, this sounds strikingly similar to Mitt Romney's position.
Perry, however, draws a different comparison: "The man some in the GOP are touting as a dream candidate has often sounded like the presidential hopeful many of them seem ready to dismiss: Senator John McCain." Indeed, there is more than unites McCain and Thompson—hawkish interventionism, good government, campaign-finance reform, etc—than separates them.
Consider foreign policy (my hyperlink):
In a 2004 speech to the American Enterprise Institute, Thompson said that "every politician that describes Iraq as another Vietnam gives our enemies hope for success."

"If someone says, 'This is Vietnam,' they're predicting defeat," Thompson said. "They're predicting an early pullout. I think that is irresponsible."

He called for "regime change" in Iran in a recent interview with the Weekly Standard, although he did not detail how that would happen. . . .

In 2000, he infuriated business groups, a rock-solid GOP constituency, by insisting that a trade bill with China include provisions that would allow sanctions on Chinese companies that sent weapons to rogue nations. He was unsuccessful.
This sounds like McCain on steroids to me.
Nonetheless, there are some differences. Whereas McCain was overtly hostile to the religious right, which consequently still distrusts him—who can forget his "agents of intolerance" and "forces of evil" remarks in 2000?—Thompson seems indifferent toward it. Similarly, against McCain's regulatory instinct, Thompson, as a federalist rather than an ideologue, is more inclined to favor market-based solutions.