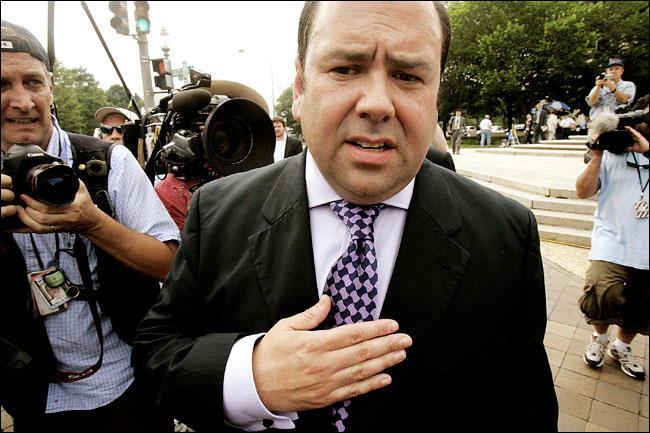 On July 6, having received an hour earlier, "in somewhat dramatic fashion . . . an express personal release from my source," Matt Cooper agreed to testify. But as the New York Times reports, that source—Karl Rove—never gave Cooper the release himself. Rather, the release resulted from a "frenzied series of phone calls initiated that morning" by Cooper's lawyer, Richard Sauber, to Karl Rove's lawyer, Robert Luskin, and which involved the special prosecutor.
Here's what happened (with additional reporting from Editor and Publisher). On his way back from Alaska to Washington on the night of July 5, Sauber passed through Chicago at 6 a.m., where he picked up the Times and the Wall Street Journal. Back on the phone, he read an article in the Journal that quoted Luskin as saying, "Mr. Rove hasn't asked any reporter to treat him as a confidential source in the matter. So if Matt Cooper is going to jail to protect a source, it's not Karl he's protecting."
Sauber immediately called Cooper from the plane, and they agreed to ask Luskin for a specific release from Rove. "I think we should take a shot," Cooper recalled. "I said, 'Yes, it's an invitation.'"
When he landed in Washington, Sauber called Luskin, who called back at around 12:30 p.m.—an hour and half before court re-adjourned. Luskin dictated a waiver to Sauber, who then sent it Luskin, who signed and returned it at around 1 p.m.
The new waiver said only that Rove "affirm[ed]" his previous, blanket waiver, but it specified "any conversation he [Rove] may have had with Matthew Cooper of Time magazine during the month of July 2003."